The first quarter of 2012 is already over and the portfolio I am most curious about, isn't Berkowitz or Buffett, but the portfolio of the ten best stocks picked by you and other readers.
Michael Mauboussin mentioned in his book More than you Know, of an experiment where a classroom of students were asked to guess the number of jelly beans in a jar.
Every guess was incorrect. The closest answer was the average of all the answers, and that is precisely what I want to test; whether a small group of investors with similar investing methods can beat the market.
For the brief reasoning for each stock, go to the original 2012 stocks selection page.
2012 Q1 Performance Results
The Q1 performance is 29.7%.
So far so good but still 3 more quarters to go. But a good start is better than a lousy start. I'm interested in doing this each year to see how a collaborative effort performs over the long term.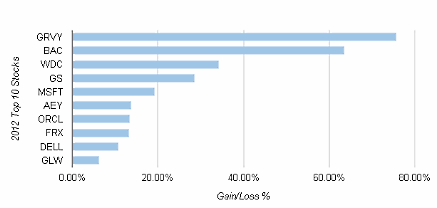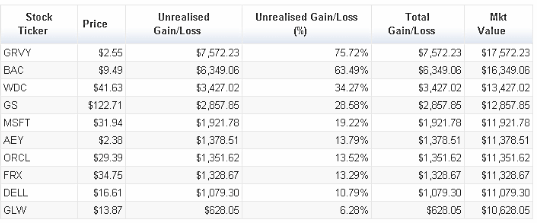 Individual Performance
GRVY: 75.7%
BAC: 63.5%
WDC: 34.3%
GS: 28.6%
MSFT: 19.2%
AEY: 13.8%
ORCL: 13.5%
FRX: 13.3%
DELL: 10.8%
GLW: 6.3%
Disclosure
Long GRVY, AEY