Automatic Financial Statements  Analysis Spreadsheet Major Upgrade
There's a reason why I haven't been writing many articles in March.
I've spent the majority of Feb and March on
completely redesigning
implementing and testing new ideas
including new features
making it easier to read
helping you to save as much time
so that you can spend your precious time on analysis rather than time consuming, ugly data collection and organization.
I've got the dirty work covered.
The major upgrade to the automated financial statement spreadsheet will be released to all premium spreadsheet buyers very soon.
Make sure you get the spreadsheets quickly and you'll be the first to see the free upgrade in your inbox when it is released.
Here's a quick guide of what has changed. Some images are large so you'll have to click to view the full size.
Cool Professional Design + Functionality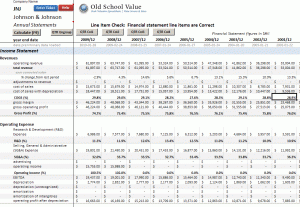 Notice the enter ticker and help button to make life easier. You wanted explanations and I listened. In the future, I'll try to include as much info into the help as possible.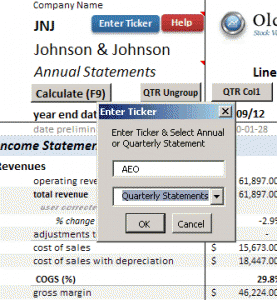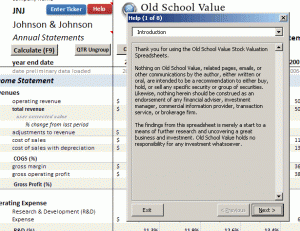 Quarterly Inventory Analysis
This section was built on the example provided in the CONN inventory analysis. The first image is an expanded view and the second is the grouped view. You use the two buttons to switch views.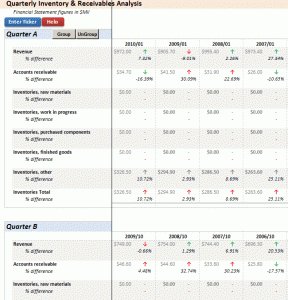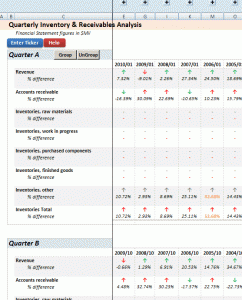 Debt Interest Expense Analysis
Another example of a simple analysis that I perform when analyzing stocks. Since I do it so often, why not automate it?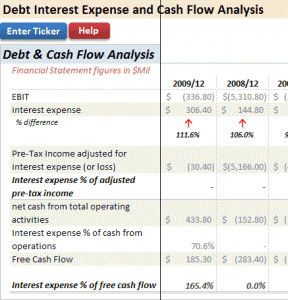 EPS Due to Tax Rate Changes
Find how the tax rate change yoy or qoq can have an affect on EPS with this spreadsheet.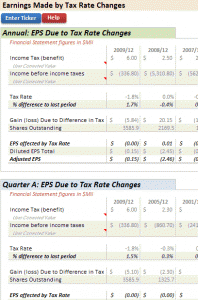 EPS Due to Non Operating & Non Recurring Income
You can choose which line to check. Choose from either interest income, other special charges, R&D and SG&A. Don't forget you can find something completely different by entering in your own values.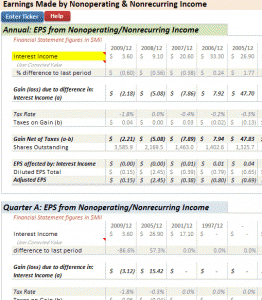 Earnings Due to Depreciation Expense
You may think these new tabs look the same but when you look at it for yourself, you'll notice the differences and the different methods of calculating each one.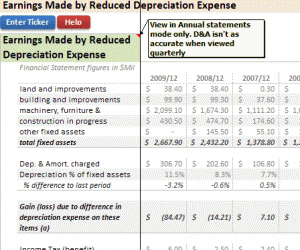 Remember that all premium spreadsheet buyers up to 1 year ago will receive the new version in their mailbox very soon. New buyers will automatically receive it as well when released.