This is a continuation of my search for the best small companies from the 200 listed in Forbes 2008.
You can refer to the results here: 1-15 | 16-32 | 33-70 | 71-130 | 131-160 | 161-200
The companies from 16-32 have yielded only 3 results.
Strayer Education (STRA) – owns and operates universities and online courses
j2 Global Communications (JCOM) – provides value added messaging and communication services
Comtech Telecommunications (CMTL) – develops advanced communications solutions
None of them seems to be trading at a discount at this time and initially, I'm a bit skeptic about the moats of JCOM and CMTL.
Once all 200 companies have been filtered, I'll sort by strength of moat and start further analysis from there.
View the graph below to see companies 16 through 32. For the upcoming posts, I'll try to go through more in one go.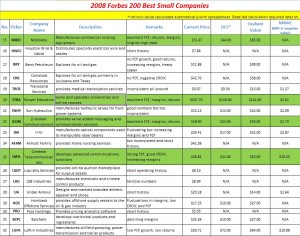 [tags]STRA, JCOM, CMTL, stock analysis [/tags]
Disclosure
No positions in any stocks at time of writing