Get the Sample and See for Yourself
Tutorials, videos and documentation on how to use the spreadsheets are provided to help you from start to end.
The OSV valuation spreadsheets will fully download up to 10 years of financial data, perform the calculations and the data will be all there within one spreadsheet. It makes looking up companies a breeze. Stock valuation has never been this easier and powerful. Here are a few screenshots to show you how it works and how you can benefit.
Connects Directly to Morningstar's Professional Data Feed
High Quality and Detailed
The spreadsheet connects directly to a dedicated Morningstar data feed to download 10 annual and 5 quarterly statements.
The data covers all major USA stock exchanges. International stocks including Canadian data is not suppported at this time.
Here is an excel file of the raw data and line items.
So Easy to Get Started - Just Download and Run
View more videos. More tutorials and instructions available in the members page or on YouTube.
Easy to View and Use Dashboard Summaries
Quick Stock Summaries
The dashboard helps you stay focused by presenting the important information on one sheet. You can print this out, or save it as a PDF. Keep it for your records or send to family and friends. They will think you are an investing genius.
All the Financial Statements at Your Fingertips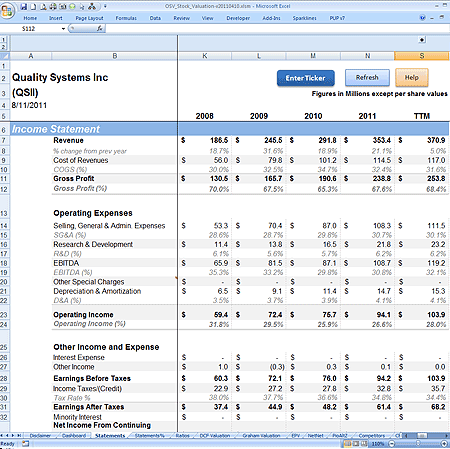 10 Years of Financials
Start breezing through 10 years of financial statements. The income statement, balance sheet and cash flow statement are presented on one page, making it easy and convenient to go through. Additional % figures are included to help you put things in perspective.
Quarterly Statements Too
Don't just settle for annual figures, there is a button which extends the spreadsheet to display the last 5 quarters of financial data. How convenient!
Understand it Clearly
When numbers start hitting the millions and billions, it's hard to comprehend and put into perspective. But not any more. Now you can see how much of current assets make up total assets, or whether inventory is increasing compared to accounts receivables based on the % differences and graphical trends.
Lots of Value Investing and Buffett Style Ratios
10 Years of Past Trends
Historical metrics are displayed for the past 10 years. You can now check the trend of investing metrics such as PE and Price to Cash Flow. See clearly whether there have been improvements over time.
Completely Customizable and Transparent DCF Valuation
Guided DCF
Rather than just give you a valuation number and then expect you to know what it means, additional supporting numbers and trends are displayed to help you decide the strength of the business.
Designed for Ease of Use and Efficiency
The spreadsheets are designed to be easy to use, yet contain all the power needed for in-depth valuation.
Let the spreadsheet do the valuation efficiently. All you have to do is control the DCF output by adjusting numbers from a drop down list or entering adjustment figures into the yellow boxes.
It's just like auto pilot mode, and you still have 100% control.
Graham Growth Valuation Model Based on EPS
Value Stock Graham Style
This model is based on Benjamin Graham, the father of value investing. It values a company based on EPS and growth. This method offers a different perspective to DCF, providing you with a good alternative valuation to think through.
Better than Just Relative Valuations
Multiples Valuation Model
An easy way to value stocks it to look at the PE. This method improves on the basic PE multiple method by making adjustments to the PE based on the company strength. Easy to understand and use.
Valuation Models used in Columbia Business School - EPV
EPV Advanced Valuation
Suited for those with good financial statement understanding. Modeled after Bruce Greenwald's method to determine the existence of a moat, how much money it will cost to replicate the stock's business and what it is worth based on normalized earnings.
Know What the Company Assets are Worth
Quick Fire Sale Value
Quickly and easily calculate how much a company is worth in a liquidation or fire sale based on the balance sheet.
Easily Check the Company Health
How Healthy is the Stock?
Here, you can determine the health of the company. There are 3 financial models in this section and were created based on technical papers written by the likes of Piotroski, Altman and Beneish. These names are famous in the world of value investing.
Quickly Check the Earnings Quality
Check Quality of Earnings
With the accrual worksheet, you can take one glance to see whether a company is abusing its accrual method to make its stock go up.
Easy to Compare up to Nine Competitors
Compare Side by Side
The easiest way to compare competitors against popular financial metrics. Directly compare 10 companies side by side. Simply determine who the competitors are, enter their ticker and refresh for the information to be loaded.
Over 30 Great Looking Charts
Visualize the Data
Not everyone is good with numbers but everyone knows how to read a graph. Choose from over 30 different types of charts in any order you want.
Keep a Log of Stocks You Valued
Keep Track of the Stocks
After having spent time to go through a stock, keep track of valuations and your assumptions. Easy as just pressing the "add stock" button on the page.
Premium Bonus #1: Fastest Watchlist
Fastest Watchlist Ever
How would you like to update 250 tickers with stock information in less than 3 seconds? This watchlist lets you add up to 250 tickers and will then download the latest information in three seconds.