Master the Stock Valuation Tools
Videos and resources to help you become awesome
Getting Started with the Spreadsheets
How to load the spreadsheet and get things up and running quickly.
See for yourself how quick and easy it is. Nothing to install. Just run.
Download the PDF version
---
4 Valuation Methods PDF Guide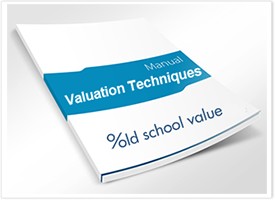 A short guide on just 4 of the many valuation techniques that Old School Value offers.
DCF, reverse Discounted Cash Flow, Ben Graham valuation and Earnings Power Value.
Download PDF
---
Dashboard Overview
See what the dashboard looks like, how it is constructed and how to interpret it.
Don't forget to see the sample and the tools you get access to.
Get the sample now
---
DCF Walkthrough
A detailed guide on how the DCF valuation sections works.
Discusses everything from FCF, discount rates to growth rates and how to interpret the numbers and what to us.
---
Graham Valuation
A discussion of the Graham formula, the valuation process, how it is used and getting to know the inputs and how it all comes together.
---
Bed Bath & Beyond Valuation
The first of three parts of a valuation video on Bed Bath and Beyond submitted by a user of the OSV tools.
Goes into detail about what sections of the spreadsheets are looked at, what numbers are used and a valuation of the company.
More videos on Youtube
---
Oracle Valuation Guide
Oracle is looked at and analyzed in this video using the Old School Value spreadsheets.
---
General Mills Valuation
After Buffett decided to own Heinz, this video was created to look at a company in the food industry to see whether the price Buffett paid was fair value or not.
---
Download Free Excel Spreadsheets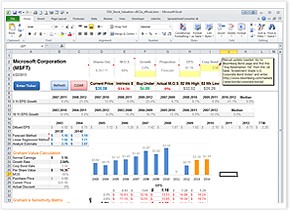 Follow the link to see the list of free excel spreadsheets you can download and use for your own personal use.
Get the free spreadsheets