Busy value investors take the hassle out of screening, valuation and grading stocks with Old School Value. Try the live demo today.
More than 400 votes were tallied by OSV readers to come up with a community voted portfolio of the 10 best stocks destined to beat the market.
However as we get nearer to the end of the year, the chance of this happening becomes unlikely.

As of Nov 16, the price return of the portfolio is 3.6%.
The 10 stocks that make up this portfolio can be seen below.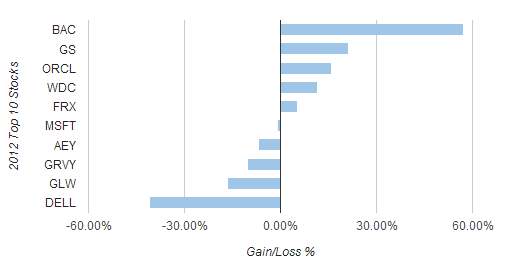 Each winner is equally offset by a loser of close to the same magnitude.
Dell (DELL) became even cheaper as industry headwinds is causing a very pessimistic view of the company.
Gravity (GRVY) after hitting 100%, is now down 10%. The weakness of this portfolio is that I do not buy or sell anything for 1 whole year. Even if a stock reaches or exceeds what I believe to be its intrinsic vale, it remains in the portfolio.
ADDvantage Technologies Group (AEY) in my mind is  still very cheap. I see it as a $3-4 stock and Microsoft (MSFT) hasn't made much ground despite launching Windows 8 and their entry into the tablet market.
I am actually optimistic about Microsoft's chances of succeed in the tablet industry.
I was skeptical at first, but after having used a Windows 8 tablet, I am heavily impressed and find myself ignoring my other Android tablets.
Well I'm actually more impressed that I can switch to the desktop version of Windows 8 on a sleek and portable device because now I can write articles, use my intrinsic value spreadsheets and do full-out stock analysis anywhere I go.
Although the price is still much too high for a Windows tablet, it should start coming down as Microsoft begins to expand its hardware expertise and capacity. I am even going to say that Windows tablets will start to eat the Android market.
Western Digital (WDC ), Oracle (ORCL), Goldman Sachs (GS) and Bank of America (BAC) are the winners so far.
Bank of America in particular took a beating last year, but has rebounded strongly as it has exceeded the markets low expectations. Overall, BAC may have been the biggest contrarian bet, which has worked out so far.
Going Forward
There is a little over one month before the end of the year, and I will reopen another 2013 portfolio when the time comes. I will also keep the 2012 active so that we can see how the portfolio continues to behave over a period greater than one year.
There will be some changes in the 2013 portfolio of how stocks are handled and measured, this way, rather than just a completely static portfolio, there will be a few sales and buys throughout the year if a stock reaches the agreed upon intrinsic value.
Busy value investors take the hassle out of screening, valuation and grading stocks with Old School Value. Try the live demo today.