Pick the best value stocks with our Stock Ranks, screening and valuation tool. Try the live demo today.
I'm very exciting to finally be able to say that the new stock valuation spreadsheets will be released next week!
It's been a big project for several months and is now finally ready to be made public. There will be a short initial BETA phase where you have the opportunity to sign up at a cheaper price than the full amount.
Current vs NEW Spreadsheets
All up, it has taken more than a hundred hours of development and a huge step up from the current product.
The new spreadsheets will be based on a subscription, which is more expensive than the price now, but very reasonable considering the value you get and the way I continue to add new services.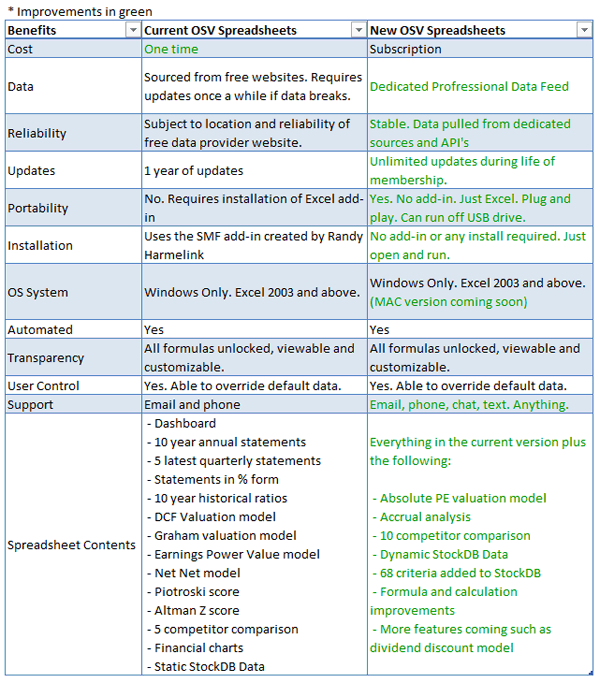 I have plans to add sections of the website dedicated to members such as premium screen strategies, premium stock analysis and other value added features.
Why Spreadsheets and Not Online Apps?
There are pros and cons to both but I've decided to continue with Excel spreadsheets for very good reasons.
The downside of web apps is that it is very restrictive. I find it impossible to verify numbers, formulas and customize.This is very important when it comes to investing with thousands of dollars.
The only advantage I see that online apps have over spreadsheet is that you can access it anywhere and is quicker. I'm willing to give up 10-20 seconds or so if I can take complete control of my numbers.
With a spreadsheet, you can control basically everything. Add new ratios, create your own charts and valuation models, tweak calculations according to your taste and methodology.
Since the new spreadsheet does not require any add-ins, you can use it from your home computer, work computer and spare computer making it just as portable and accessible.
It is why big financial institutions still use spreadsheets and companies such as Capital IQ sell spreadsheets and add-ins for thousands of dollars.
But my objective is to bring professional grade tools to regular investors like you and me.
Will Continue Support for Current Users
If you are a current user of the OSV spreadsheets, I will continue to provide support. You will not be affected.
If you purchased a while ago and want to get the new spreadsheets, I will offer a discount coupon for your loyalty.
If you purchased recently and wish to transfer to the new membership, email me and I will get you set up when ready next week.
Pick the best value stocks with our Stock Ranks, screening and valuation tool. Try the live demo today.