Pick the best value stocks with our Stock Ranks, screening and valuation tool. Try the live demo today.
One day until December.
Where did 2014 go??
I hope that you had a great Thanksgiving and enjoying the end of year festive spirits.
With a short week for the markets, I took the opportunity to read "What I Learned Losing a Million Dollars" and it is A.M.A.Z.I.N.G.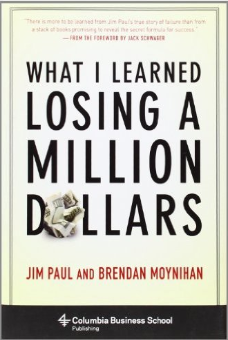 I'll definitely do a review and share all the notes of wisdom I got from it for sure.
One really good thing about Black Friday is that my wife and I were able to pick up a lot of deals to fill up a couple of backpacks to give to foster and homeless kids.
If you call yourself a value investor, Tuesday Morning (TUES) is a must. It is my favorite store ever.
For myself, I shopped at Monoprice.com which is owned by Blucora (BCOR). I am long BCOR, but everything at monoprice.com is so darn cheap and the quality is really good.
For myself….
I got:
A paper shredder for my new office at $25 🙂
5 Most Popular Articles of Late
If you have some time before the weekend is over, check out of these popular posts that have been getting a lot of eyeballs.
Why You Shouldn't Sell AAPL Just Yet
This one is a no-brainer. I never bother with analyst price targets. I have my own target prices which I believe AAPL will hit easily.
Quick Updates on 8 Stocks I Hold
Short updates on:
AEY

FRD
INFU (which got hammered after earnings by the way)
PRLS
RHDGF
WFM
WTW
How to Apply Valuation, Moat Analysis and Uncertainty Checks to Your Investing Like Morningstar
Comparing Morningstar to Old School Value and practical advice on how you can analyze stocks.
The Altman Z Value Strategy is Up 13% in 2014
I'll do a final tally next year, but the Altman Z strategy is leading the pack of value strategies I follow in 2014.
Ben Graham Net Net Stocks and a 7 Step Checklist to Make Money with Net Nets
Here's a checklist you can follow to make sure you buy the best net nets when they become available.
For a Limited Time, I've Got a 20% Discount Running for the OSV Analyzer
If you are keen to join, take advantage of the offer.
If your account is a few months out before expiring, grab the deal and lock your price in while you can.
I try to be very clear and transparent about what the analyzer can and can't do, who it is for and who it isn't for. So check it out if you are interested.
What is Old School Value?
Old School Value is a suite of value investing tools designed to fatten your portfolio by identifying what stocks to buy and sell.
It is a stock grader, value screener, and valuation tools for the busy investor designed to help you pick stocks 4x faster.
Check out the live preview of AMZN, MSFT, BAC, AAPL and FB.