Pick the best value stocks with our Stock Ranks, screening and valuation tool. Try the live demo today.
To get this kind of information and other exclusive articles before regular readers, get on the VIP Mailing List today.

********
(This is a guest post by Will Morrissett and may not reflect the views of Old School Value)
Quick list of reasons why you should read this and take a look at BBX Capital (BBX) after.
Hidden Assets
Merger Arb
Unpleasant Exterior
below NAV
Catalyst Heavy
Clean Balance Sheet
Cash Flow Positive
Improving Metrics
Potential Multi-Bagger
Small Cap Stock
History and Current Form of BBX Capital
For the sake of saving space and time, here are two links.
A presentation on the current make up of BBX and its sister company BFCF
BBX is 52% owned by BFC Financial (BFCF) and is waiting on the conclusion of an SEC led lawsuit before the merger of both companies can process. At that point the company will be named BFC Financial and have just below 128m shares outstanding (1 share of BBX will become 5.39 BFCF shares).
The holding company will consist of the following segments:
BBX Real Estate (South Florida real estate development)
BBX Capital (newly acquired operating companies)
BlueGreen (time share vacation business)
A mix of Net Operating Losses at various levels of the holding company
Less any debt, deferred comp, and potential litigation costs
By purchasing BBX you also get a discount to BFCF due to the delayed and uncertain date of the merger. This merger has already been voted on and approved by shareholders, "assured" by management and is in the best interest of all stakeholders.
Real Estate at BBX Capital is Understated
BBX Capital currently includes 'Real Estate' and 'Operating Companies' and BFCF accounts for its full stake in BBX on an NAV basis.
This deeply undervalues the real estate held over from the sale of Bank Atlantic. If you refer to the second linked article, the CEO states
he's 'very happy' with BBX's remaining portfolio, which he got at values written down by 'hundreds of millions' of dollars by Bank Atlantic."
So it's fair to say that these South Florida assets are held on the books at a very low price relative to their ultimate highest use.
Review the company presentation and you'll see the untapped potential of these properties which were once considered toxic on a bank's balance sheet.
While we are reviewing local real estate comps, we don't yet have a neat high-end estimate to date.
Bottom line: these assets are way understated.
NAV Calculation per 2014 Q1:
"The Company's total assets as of March 31, 2014 were $416.9 million compared to $431.1 million as of December 31, 2013. The decline in total assets reflects the utilization of cash proceeds from loan repayments, loan sales and real estate sales to repay BB&T's preferred interest in FAR. The changes in the components of total assets from December 31, 2013 to March 31, 2014 are summarized below:" See 10Q

"The Company's total liabilities at March 31, 2014 were $111.2 million compared to $127.6 million at December 31, 2013. The changes in the components of total liabilities from December 31, 2013 to March 31, 2014 are summarized below:" See 10Q
$416.9m assets – $111.2m liabilities = $305.7m NAV

Remember: assets are "written down by hundreds of millions of dollars"

$305.7m/128m pro forma shares = $2.28 NAV per Share
Valuing BlueGreen
BG is in the business of selling time share vacation ownership (VOIs) for itself and third parties. They also securitize the financing of these buyers and sell it into the secondary market.
They no longer develop these properties and consider their current model "capital light".
Some additional positives:
The credit quality of their customers have greatly and steadily improved over the past 5 years
The company has grown revenues every year since 2009
BG has paid its parent companies $61m in dividends in the past 5 quarters. The company was acquired for $149m in 2012.
2014Q1 revenue is trending higher than 2013.
While free cash flow seems to be improving into 2014, we will use 2013's annul figures of $95m FCF:
At a multiple of 8x, BG should be valued at $760m
At a multiple of 10x, BG should be valued at $950m
Factor in Net Operating Losses for Added Value
The holding company will have roughly $1.68 billion in NOLs at various levels and subsidiaries. It's difficult to guess when and how the company uses its NOLs and tax deferred assets.
The longest lived assets are 20 years so we have estimated the net present value with a 20% discount rate.
Our more aggressive estimate uses a 15% discount rate.
These estimates result in a value between $3.22 – $4.14 per share.
Debt, Deferred Compensation, Litigation to Consider
The company holds some debts and executive compensation varies throughout the company. Our highest estimate shows the total to be approximately $250m.
This doesn't include the debt of the operating companies or individual developments because each unit is responsible for those and effectively paying them down.
These are simply the debts that must get paid down from the dividends of those businesses.
The company's litigation costs from its SEC suit against the CEO are unknown at this point. Ken Lewis, former head of BoA, was fined $25m and banned from the banking industry.
If we use this as a high end (and very unlikely) estimate, we get a per share cost of -$0.20.
It should be noted, pro forma, there's about $190m in cash on the balance sheet.
Before you dive into the meat of the content, if you haven't signed up with your email for our free investment resources, do so.
I'll immediately send you extra stock ratios notes, checklists, spreadsheets and additional downloads you can succeed with.
Let's Do This. The Sum of the Parts.
1. BBX Capital and Real Estate:
NAV from most recent10Q = $416.9m-$111.2m = $305.7m/128m pro forma shares = $2.28 NAV
High End Est (but likely much higher) = $3.00 NAV
2. BlueGreen:
2013 FCF = $95m @ 8x = $5.93 per share
2013 FCF @ 10x = $7.42 per share
3. NOLs:
$1.68b over 20 years @20% discount rate: NPV = $413.43m/128 = $3.22 per share
$1.68b over 20 years @15% discount rate = $4.14 per share
4. Hold Co Comp and Woodbridge Debts per share: (see the presentation for the organizational structure)
-0.99 + -0.85 = –$1.84 per share
5. Litigation:
Ken Lewis fine = $25m/128m shares = –$0.20 per share max
Low end: assume $0 but it will be below $25m
Sum of the Parts Conclusion
Add all this up and you get the following:
Low Est: $9.59
High Est: $12.72
Purchase BBX instead of BFCF for the merger discount/arbitrage: 6-10% cheaper.

@$19 a share for BBX, after the merger, since you get 5.39 shares, the current share value will be equivalent to $3.53.
Now considering that the intrinsic value ranges is like so;
Low Est: $9.59
High Est: $12.72
The potential gain is possibly 170% – 260%.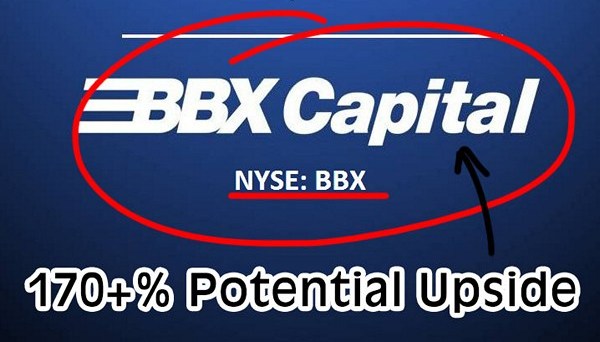 Summing Up the Catalysts
Closure of SEC lawsuit, no matter the result
Paying off of the last $54m to BB&T for loans associated with Bank Atlantic sale
Merger completion
Up-listing of new Holding Co to major exchange
Increasing investor relations & analyst coverage
Progress developing real estate
Share repurchases
Continued improvement in operating businesses
Effective acquisitions and use of NOLs
Disclosure:  Long BBX and BFCF.
Will Morissett is an individual investor who takes concentrated positions in a handful of deep value stocks. He has a BS in finance and nearly a decade of experience in the financial services industry.
To get this kind of information and other exclusive articles before regular readers, get on the VIP Mailing List today.

********
What is Old School Value?
Old School Value is a suite of value investing tools designed to fatten your portfolio by identifying what stocks to buy and sell.
It is a stock grader, value screener, and valuation tools for the busy investor designed to help you pick stocks 4x faster.
Check out the live preview of AMZN, MSFT, BAC, AAPL and FB.