Guaranteed Profit with FIS Odd Lot Tender
The author of Value Uncovered is a long time reader of OSV and has graciously allowed me to repost his latest article and special situation idea on FIS.
I only read blogs that offer high quality information and ideas, and Value Uncovered is a new blog that I am glad to read and would recommend to all value investors.
—————————-
Fidelity National Information Services, Inc (FIS) is a financial services company with over $3.7 billion in annual sales, focused on credit card and mortgage processing.
Background
On May 6, 2010, the Wall Street Journal reported that FIS was in talks with the Blackstone Group and THL Partners, two private equity firms, about a leveraged buyout in the $10-11 billion range.
The stock jumped on the announcement, and moved even higher after rumors surfaced that another private equity firm wanted in on the deal as well. News organizations increased their estimates to more than $15 billion, making it potentially the largest leveraged buyout since the start of the credit crisis.
However, on May 18, the deal fell through and the Company decided to pursue a leveraged recapitalization plan and substantial share repurchase instead.
Announcement
On May 25, the Company released a statement outlining the terms of the recapitalization plan:
As stated in the news release, our Board of Directors has authorized a plan under which our Company will repurchase up to $2.5 billion of its common stock at a price range of between $29.00 – $31.00 per share through a modified "Dutch auction" tender offer. In order to effect the proposed recapitalization, we intend to borrow approximately $2.5 billion of incremental debt. FIS is in a strong financial position and generates significant free cash flow, so we are very comfortable with the proposed debt levels that we will incur in repurchasing the company stock.
Odd-Lot Provision
Although the final price level and number of shares purchased will be determined by the dutch auction, the tender offer provides priority to 'odd lot' shareholders of less than 100 shares.
Even if the offering is oversubscribed, this provision ensures small shareholders will receive a full cash-out without any proration, a great opportunity for the average investor.
Timeline
May 25: FIS announces details about the proposed recapitalization plan and self-tender offer.
July 6:  The Company sells $1.1 billion in Notes to qualified institutional buyers, the main condition for the share repurchase
July 6: FIS commences the tender offer.
July 16: Proposed closing of $1.1 billion Note offering
August 3: Conclusion of the tender offer
Late August: Shareholders who validly tender their shares will be cashed out at the final auction price, with priority for the 'odd lot' shareholders defined above.
Return Scenarios
As of July 9, I'm adding FIS to my ValueUncovered portfolio using the latest closing price of $27.70.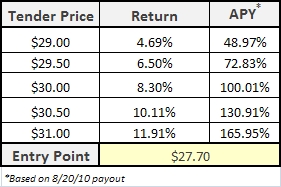 Final Tender Price
TBD
Conclusion
The deal offers attractive annualized returns for a month long trade.  Although there is always risks with such a large transaction, FIS is very well capitalized and I don't forsee any problems with the offer going through.
I think Frank Martire, the Company's President & CEO, says it best:
The recapitalization plan is consistent with our commitment to doing what is in the best interests of our company, our clients and our shareholders. Our strong financial position, combined with appropriate market conditions and our excellent relationships with lenders, make this the right move at the right time.
Disclosure
Value Uncovered & Old School Value is long FIS